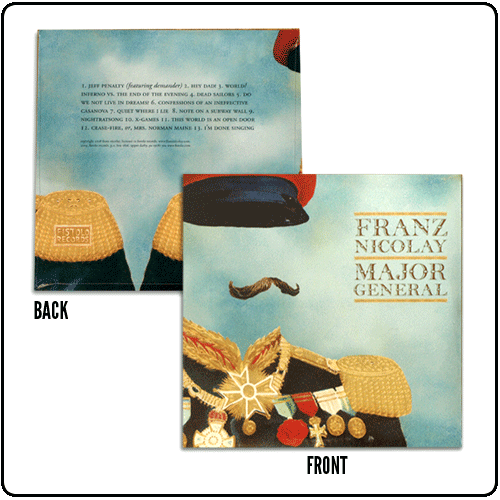 Do you like this item?
Franz Nicolay - Major General (Vinyl) - Vinyl
Customers Who Bought This Item Also Bought
Product Details for Franz Nicolay - Major General (Vinyl) - Vinyl
Track Listing:
1. Jeff Penalty (featuring Demander)
2. Hey Dad
3. World/Inferno Vs. the End of the Evening
4. Dead Sailors
5. Do We Not Live in Dreams?
6. Confessions of an Ineffective Casanova
7. Quiet Where I Lie
8. Note on a Subway Wall
9. Nightratsong
10. X-Games
11. This World Is an Open Door
12. Cease-Fire, or, Mrs. Norman Maine
13. I'm Done Singing


A melodramatic grab-bag of full-throated songs, stories, and days of wine & roses; shamelessly strident, stentorian and more than a little sentimental. Major General is rich with tales of punk-rock disillusionment, redemption, nostalgic regret, ruthless self-interrogations & reinvention, and defiant yet affectionate apologies. It's a new look for the stylishly vaudevillian jack-of-all-trades with the Jimmy Durante and death's-head-accordion tattoos. A new stop on a hobo's-trail of intelligent, incisive hedonism that's taken him through anarcho-circus punk, Balkan-gypsy, new chamber music, and anthemic classic rock.

Pitchfork: 7.3 "Nicolay's skill at playing punk sage on one song and slightly troubled troubadour on the next is really something special."

UNCUT: 4-stars, Debut Album of the Month

Q: "Recasting the windswept folk artist as someone with piratical swagger, he comes over like Nick Cave leading an American Pogues, and every see-saw rhythm is shot through with a potent, whisky-drenched drama.
More Items from Franz Nicolay