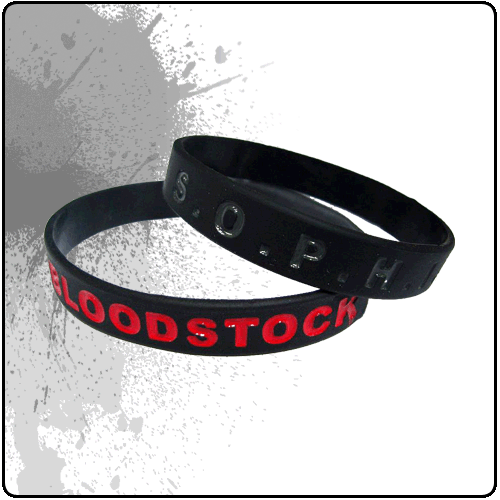 Do you like this item?
Sophie Lancaster - Bloodstock - Wristband
Customers Who Bought This Item Also Bought
Product Details for Sophie Lancaster - Bloodstock - Wristband
BLOODSTOCK brings you the opportunity to
WIN a BC RICH GUITAR donated by ROSETTI
Signed by world class guitarists
TONI IOMMI (Black Sabbath), HERMAN LI (Dragonforce), JOE SATRIANI, YNGWIE MALMSTEEN,

S.O.P.H.I.E
Stamp Out Predjudice Hatred Ignorance Everywhere

This year Bloodstock Open Air dedicates their 3rd stage to Sophie Lancaster who tragically died on August 24th 2007 following a brutal attack on her and her partner Rob. This unprovoked attack which took place while walking through their local park in Bacup, Lancashire was down to thugs who simply took a dislike to the way Sophie and her partner dressed which was in their own unique style. Following Sophie's senseless death her family set up the SOPHIE LANCASTER FOUNDATION to provide training to professionals in order to raise awareness of the prejudice and violence faced by people from alternative subcultures. The foundation will develop and deliver workshops tackling the issues and challenging pre-conceptions. They will work towards offering advice and information to whoever may need it and to help them send a clear message that this sort of behaviour will not be tolerated in our society.

To help raise funds for this very worth while cause we are giving you the opportunity to win this FANTASTIC prize. A BC RICH Guitar donated by Rosetti and signed by world class guitarists Yngwie Malmsteen, Herman Li (Dragonforce), Joe Satriani and Toni Iommi (Black Sabbath). We can't begin to put a value on this – suffice to say this is an awesome prize.

TO BE IN WITH A CHANCE TO WIN –We have produced a bespoke S.O.P.H.I.E /BLOODSTOCK WRISTBAND which can be purchased at £2.00. For every wristband purchased you will be entered into a prize draw to win this GUITAR. Tell your friends and family and spread the word. THE WINNER WILL BE ANNOUNCED LATER THIS YEAR.

Please note – To qualify for entry in to this prize draw, please ensure you opt into the mailing list upon purchase. Your details will NOT be used for any marketing purposes. If we do not have your e mail address, you will not be entered into the competition. Many thanks.

More Items from Sophie Lancaster
WRISTBANDS