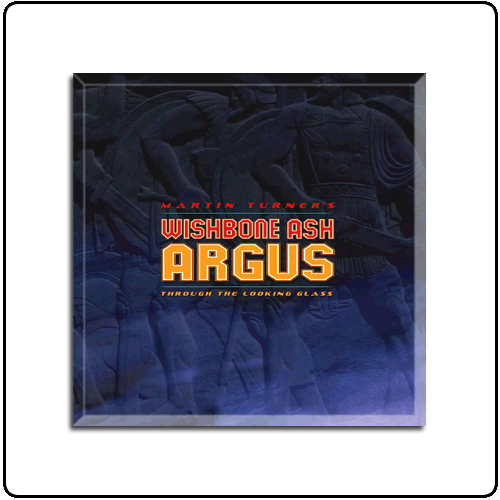 Do you like this item?
Martin Turners Wishbone Ash - ARGUS Through The Looking Glass - CD
Customers Who Bought This Item Also Bought
Product Details for Martin Turners Wishbone Ash - ARGUS Through The Looking Glass - CD
Track listing

1. Time Was
2. Sometime World
3. King Will Come
4. Leaf And Stream
5. Warrior
6. Throw Down The Sword
7. Blowin Free




In August 2007, Martin Turner's Wishbone Ash entered Liscombe Park Studios, Soulbury, Buckinghamshire to lay down a brand new recording of Wishbone Ash's seminal masterpiece, Argus.


We had already decided to do an Argus tour, performing the entire album on stage for the first time ever. We were going into the studio to rehearse and it quickly became apparent that if we were doing this music in a recording studio, we might as well record it as well. However, rather than simply recording a live rendition of the album, we decided to approach it as a more considered studio project. I'd always wondered what the music would sound like recorded with modern technology.


The resulting album Argus: Through The Looking Glass received favourable feedback from fans of the classic line-ups of Wishbone Ash, with the album being viewed by most as an ideal balance between remaining faithful to the original arrangements, yet at the same time leaving just enough space for reinterpretation.

The album also featured guest appearances from Asia members John Wetton (harmony vocals) and Geoff Downes (Hammond organ) on Throw Down the Sword.

The basic tracks for Argus Through The Looking Glass were recorded by Martin Turner, Keith Buck, Ray Hatfield and Rob Hewins during August 2007. Additional recording took place in November/December 2007 (Geoff Downes and John Wettons parts) and July 2008 (additional guitar/vocal contributions from Danny Willson).


More Items from Martin Turners Wishbone Ash