Iron Maiden Ladies Trooper Bundle - Bundle
- Price: $89.99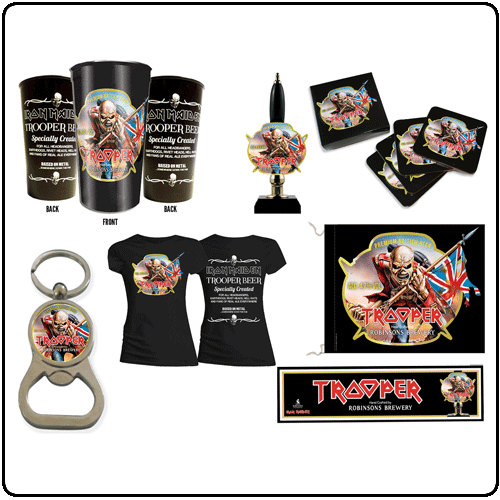 Do you like this item?
Iron Maiden - Ladies Trooper Bundle - Bundle
Customers Who Bought This Item Also Bought
Product Details for Iron Maiden - Ladies Trooper Bundle - Bundle
Front & Back Print Trooper Tee

Printed on 100% cotton Fruit of The Loom Black T-Shirt

Set of 3 plastic Trooper Beer printed beer cups (image shows front and back)

Holds approx 750ml

16cm tall, diameter at top 10cm

Not dishwasher safe

Keyring Bottle opener

Dimensions: 65mm x 33mm
Image Dimensions: 30mm ring
Material: Zinc Alloy


Beer Pump Clip

Authentic Metal Pump Clip.
Beer description card and plastic assembly hook included.
Pump Handle not included, shown for illustrative purposes only.
Dimensions: 170mm x 145mm.
Material: Metal (Tin).

Beer Mats

Set of 4 Square full colour print Laminated Cork Coasters supplied in a printed box.
Dimensions: 95mm x 95mm x 4mm


Giant Flag

One-sided Print
Dimensions: 100cm x 134cm
Material: 100% Polyester

Bar Runner

Dimensions: 890mm x 240mm
Material: Rubber backing with full colour printed absorbing pile.